Barista Prima Coffeehouse®
Decaf Italian Roast
Dark Roast

Bold yet ideally balanced, with a subtle hint of smokiness and a bright clean finish, our Italian Roast is a hearty and flavorful testament to the art of dark roasting. Its uniquely potent flavor profile has been masterfully crafted to occupy a special niche between the bright, bold taste of our Colombia offering and the intense, smoky-sweet essence of French Roast. A discriminatingly versatile cup: the ideal accompaniment to sunrise, or the perfect ending to an unforgettable meal.
Allow pod to cool. Carefully peel back tab to separate foil lid and any filter from cup. Recycle your cup wherever #5 plastics are accepted. #5 plastics may not be recyclable today in your community, so please check locally.
beverage.flavoratts.decaf
Orthodox Union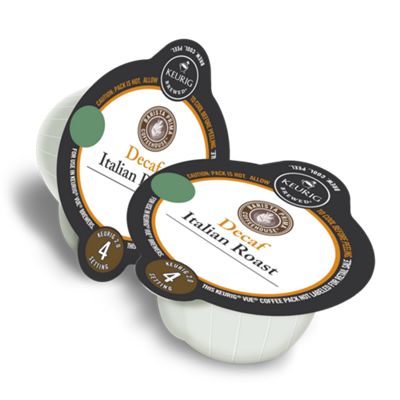 Roast Profile
Light
Dark

PRICE
Free shipping on orders $49 or more!

Auto-Delivery
has advantages.
---
Get 15% off list price on pods in every recurring Auto-Delivery order.