Newman's Own® Organics
Newman's Special Blend Decaf Coffee
Medium Roast

Bold yet refined. Strong yet smooth. A study in contradiction, or a reflection of the man for whom it was created? Maybe both.
Allow pod to cool. Carefully peel back tab to separate foil lid and any filter from cup. Recycle your cup wherever #5 plastics are accepted. #5 plastics may not be recyclable today in your community, so please check locally.
beverage.flavoratts.decaf
Fair Trade Certified
Organic
Extra Bold
Orthodox Union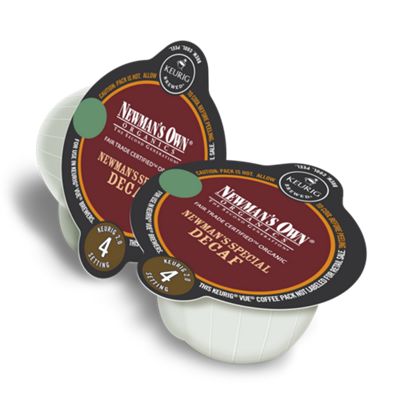 Roast Profile
Light
Dark

PRICE
Free shipping on orders $49 or more!
GREAT TASTING COFFEE THAT HAPPENS TO BE ORGANIC. SOME RELATIONSHIPS ARE MEANT TO HAPPEN. It seems only natural that two companies with a shared vision of a better world would unite to bring you exceptional coffee and the chance to make a difference. Fair Trade organic coffee gives you great taste and the chance to make a real difference in the lives of coffee farmers around the world. Because farmers get a fair price for their crop, they are better able to take care of their land, their families, and themselves.
Things you'll love
With 500+ varieties to choose from here are some of our best sellers.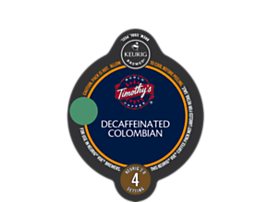 Timothy's®
4.3
Decaffeinated Colombian Coffee
Medium Roast Coffee
View Product Page for More Details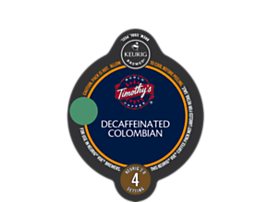 Timothy's®
4.3
Decaffeinated Colombian Coffee
Medium Roast Coffee

VUE® POD COFFEE. Rich, smooth, and well-balanced.
Full Details
Roast Profile

PRICE

Auto-Delivery
has advantages.
---
Get 15% off list price on pods in every recurring Auto-Delivery order.