Café Escapes®
Dark Chocolate Hot Cocoa

Dedicated chocolate devotees know the dark stuff is the ultimate in decadent indulgence. Rich and sophisticated, with just the right amount of sweetness — it's a moment of luxurious escape you can enjoy every day.
Notes:This Product contains milk. Product is trans fat and gluten free. Caffeine content is estimated at less than 10 mg per serving (versus 100-150 mg in Arabica Coffee). Contains a combination of natural and artificial sweeteners.
Allow pod to cool. Carefully peel back tab to separate foil lid and any filter from cup. Recycle your cup wherever #5 plastics are accepted. #5 plastics may not be recyclable today in your community, so please check locally.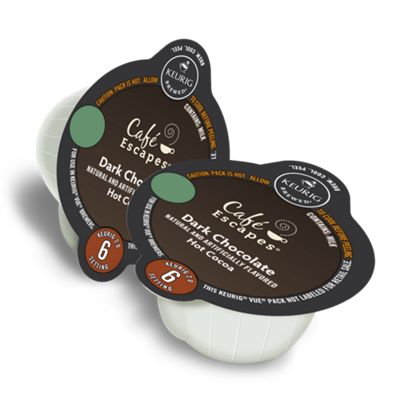 PRICE
Free shipping on orders $49 or more!
Every day, you should do something nice for yourself. Take a break. Relax. Recharge. Give in to a few delicious moments of ""me time."" Café Escapes salutes this notion with a delectable collection of indulgent treats. They're rich, satisfying, and decadent - but not so much that you can't enjoy one every day. Whether you need an afternoon pick-me-up, or something to go with that hard-to-put-down book, Café Escapes® is the perfect companion. Prepare a cup just for you and enjoy a moment of uplifting downtime.
Things you'll love
With 500+ varieties to choose from here are some of our best sellers.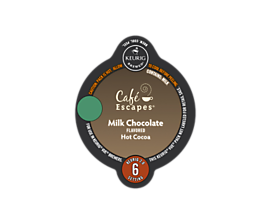 Café Escapes®
3.8
Milk Chocolate Hot Cocoa
View Product Page for More Details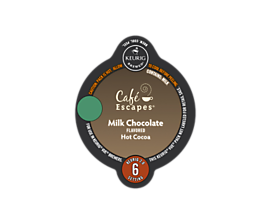 Café Escapes®
3.8
Milk Chocolate Hot Cocoa

VUE® COCOA. A classic favorite for all ages.
Full Details
PRICE

Auto-Delivery
has advantages.
---
Get 15% off list price on pods in every recurring Auto-Delivery order.