Green Mountain Coffee®
Nantucket Blend Iced Coffee

The iced coffee version of Nantucket Blend® is just as full and complex as the original, but it's not an identical twin. Consider it a close, colder cousin. Coffee performs differently at different temperatures, so we adjusted the recipe to achieve the perfect balance of flavor and refreshment when it's brewed over ice.
Allow pod to cool. Carefully peel back tab to separate foil lid and any filter from cup. Recycle your cup wherever #5 plastics are accepted. #5 plastics may not be recyclable today in your community, so please check locally.
Brew Over Ice
Fair Trade Certified
Orthodox Union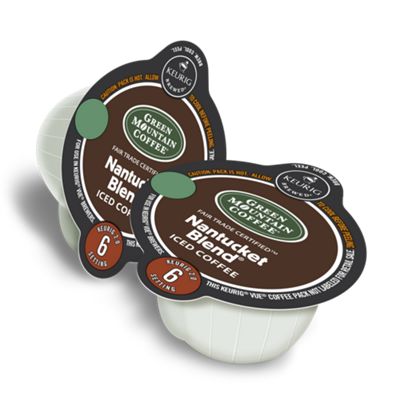 PRICE
Free shipping on orders $49 or more!
Long before you've taken your first sip, we've been finding and roasting the highest quality coffee in the world while building strong, lasting relationships with the farmers who grow it. That's not only so you'll enjoy Green Mountain Coffee® every day, it's simply the right way to do business.
When our customers have the chance to enjoy the freshest, best-tasting coffee around, we know we've done a good day's work.