Snapple®
Raspberry Iced Tea

For the ultimate refreshment, brew a cup of raspberry flavored green and black tea from Snapple®–Made from the Best Stuff on Earth®.
SNAPPLE and MADE FROM THE BEST STUFF ON EARTH are registered trademarks of Snapple Beverage Corp., used by Green Mountain Coffee Roasters, Inc. under license. © 2013 Snapple Beverage Corp. www.snapple.com
How to Brew Over Ice
Step 1: Fill a 16-oz. cup (Do not use glass) to the top with ice and place a Brew Over Ice K-Cup® pod in your brewer.
Step 2: Press the 6-oz. or 8-oz. brew button for optimal flavor.
Step 3: Stir and enjoy!
We suggest you run a hot water brew cycle without a K-Cup® pod before and after brewing the Brew Over Ice K-Cup® pod.
Store in a cool and dry place.
beverage.flavoratts.regular tea
Brew Over Ice
Orthodox Union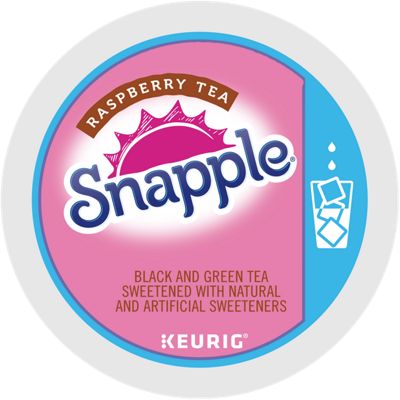 PRICE
Free shipping on orders $49 or more!
SNAPPLE® ICED TEA
Real Fact: Snapple® brings you what you've come to expect–a simply great tasting home brewed iced tea. Snapple® iced teas are made with quality ingredients (the best stuff) in the delicious Snapple® flavors you love. Just fill a cup with ice, press the button and enjoy. You can thank us later.
Things you'll love
With 400 varieties to choose from here are some of our best sellers