The Original Donut Shop®
Sweet & Creamy Regular Iced Coffee

Sweet & Creamy Regular Iced Coffee: Remember the good ol' days with this sweet, full-bodied all-American classic, on ice.
How to Make the Perfect Iced Coffee
Step 1: Fill a 16-oz. cup to the top with ice and place a Brew Over Ice K-Cup® pod in your brewer. (Do not use glass.)
Step 2: Press the 6-oz. brew button for optimal flavor.
Step 3: Stir and enjoy!
Orthodox Union Dairy
Brew Over Ice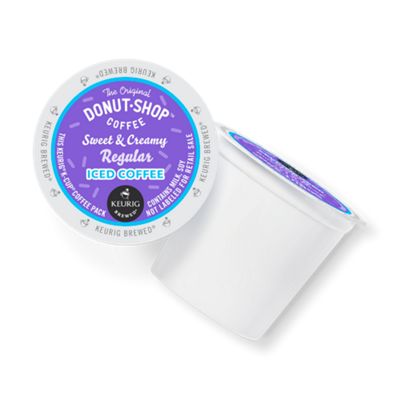 PRICE
Free shipping on orders $49 or more!
Some people won't admit it, but the best part of a donut is the coffee that goes with it. Without coffee, donuts are just another confection. But Donut Shop Coffee? That's a different story. The Original Donut Shop® Coffee lingers on your tongue and warms the soul. It brightens your day like a big scoop of sprinkles. And who doesn't like sprinkles? If you go through life as if it's a sweet surprise filled with jelly and covered in frosting, The Original Donut Shop® Coffee is for you.
Things you'll love
With 400 varieties to choose from here are some of our best sellers