Café Escapes®
Latte Creator-Creamy Latte

Transform your favorite coffee into an indulgent, creamy café beverage. With Café Escapes® Latte Creators, you can enjoy the simple perfection of a steaming latte right from your Vue® Brewer. Made with real milk, Creamy Latte serves up a lightly sweetened taste that's worth lingering over.
Brewing Cafe´ Beverages is a 2-step process that requires 2 Vue® Pods: one containing a frother (dairy, included in box); and one containing coffee (coffee Vue® pod sold separately).
Step One
Insert the frother Vue® pod
Select "Cafe´" (the system will automatically reset to the 4oz setting)
Press "Brew"
Step Two
Insert a coffee Vue® Pod (sold separately)
Press "Brew", (the system will automatically reset to the 8oz setting. If you'd like to brew a different size, use the + or - buttons on the touchscreen.)
Allow pod to cool. Carefully peel back tab to separate foil lid and any filter from cup. Recycle your cup wherever #5 plastics are accepted. #5 plastics may not be recyclable today in your community, so please check locally.
Special Note: This product is available to ship only to addresses in the U.S.
Orthodox Union Dairy
beverage.flavoratts.none
Café Beverage
Two Step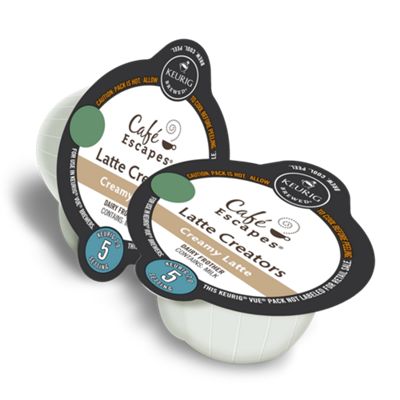 PRICE
Free shipping on orders $49 or more!
Every day, you should do something nice for yourself. Take a break. Relax. Recharge. Give in to a few delicious moments of ""me time."" Café Escapes salutes this notion with a delectable collection of indulgent treats. They're rich, satisfying, and decadent - but not so much that you can't enjoy one every day. Whether you need an afternoon pick-me-up, or something to go with that hard-to-put-down book, Café Escapes® is the perfect companion. Prepare a cup just for you and enjoy a moment of uplifting downtime.
Things you'll love
With 500+ varieties to choose from here are some of our best sellers.