Keurig® Brewer System
Keurig® K3000SE Commercial Brewing System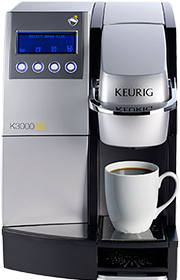 The K3000SE Commercial Brewing System is a full-featured brewer that has direct-water-line plumbing for unlimited back-to-back brewing in under a minute. Designed for use in large businesses, it offers a choice of 4 brew sizes and automatic K-Cup® pod ejection with built-in disposal bin. This brewer is ANSI certified to NSF standards for use in foodservice.
Features and Purchasing
First cup. Fourth cup - with Keurig®, it's always a fresh cup. The K3000SE Brewing System brews a perfect cup of coffee, tea, hot cocoa, or iced beverage in under one minute at the touch of a button. Now everyone in your office can brew what they love. This brewer has an LCD Interface that provides step-by-step brewing instructions in English, Spanish, and French, and a choice of 4 cup sizes. The drip tray flips up to accommodate travel mugs, K-Cup® pods are automatically ejected after each brew, and the brewer is vending-compatible with a coin changer accessory that takes US and Canadian coins.
Experience an amazing variety of beverages from some of America's most-loved brands.
---
Purchasing
Keurig® Commercial Brewing Systems are available through our Keurig Authorized Distributors.
Our distributors are experts at finding the right Keurig Commercial Brewing System for businesses of all sizes. Complete the form at this link and a Keurig Authorized Distributor will contact you within two business days.
---
Highlights
Brewer Speed
NSF Certified
Separate Hot
Water Spigot
Direct Water
Line Plumbing
4 Cup Sizes
Automatic Used
K-Cup® Pod
Ejection and
Storage

Multilingual
Brewing
Instructions
---
Specifications
Usage: Commercial use only
Power: 1,400 watts
Voltage: 120VAC
Weight: 35 lbs. empty
Dimensions: 17.4"H x 18.0"D x 12.0"W