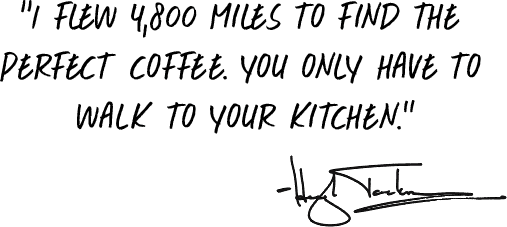 .

It wasn't a short journey, but it was a fun one. Scroll down to learn
more about this incredibly satisfying sip.
HUGH AND HIS WIFE TRAVEL
TO ETHIOPIA. THEY MEET A
YOUNG COFFEE FARMER
NAMED DUKALE.
INSPIRED BY DUKALE AND HIS
AMAZING COFFEES, HUGH AND
HIS FRIENDS OPEN THE
LAUGHING MAN CAFÉ IN NYC.
KEURIG® PARTNERS WITH
LAUGHING MAN® TO BRING THEIR
FINE COFFEES TO YOUR HOME.

It's more than just a great cup of coffee.
Learn how your purchase gives back.
> LEARN MORE

184 Duane Street,
New York, NY .