Shop Recyclable* K-Cup® Pods by looking for the green recyclable* symbol on the variety on Keurig.com, or for the recyclable* flag on the box at retail.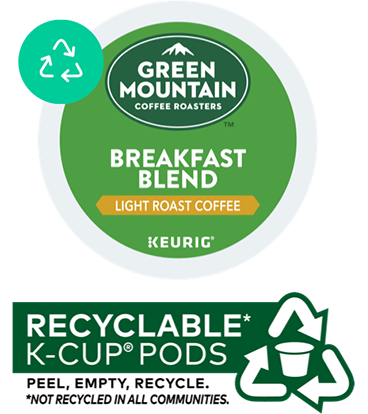 How to Recycle K-Cup® Pods*
Recycling our #5 Plastic Pods is Simple!
Fill 'er up!
Because recycled #5 plastic is in such high
demand, more community recycling programs are
seeking this plastic out. While you've been filling
up those bins, we've been working closely with
recyclers to make sure they're ready to sort and
recycle our pods and other small format plastics.
And together, we're finding new ways to
transform recycling across North America.
Questions about Recyclable* K-Cup® Pods?
Read our FAQs
The Road to Recyclability


2016
The first recyclable* K-Cup® pods are ready to brew


2017
The recyclable*
K-Cup® pod is launched in Canada


2018
As of 2018, 100% of K-Cup® pods produced in Canada are recyclable*


2019
Rolling launch of the recyclable*
K-Cup® pod in the U.S. begins


2020
All K-Cup® pods will be recyclable* by the end of 2020
*Please check locally. K-Cup® pods are not yet recyclable in all communities.