OUR RECYCLABLE K-CUP® POD JOURNEY CONTINUES
As of November 2021, we entered the next stage of our recyclable K-Cup® pod journey with the introduction of EASY-PEEL lid technology on select items. EASY-PEEL lids feature a built-in tab that makes it simple and convenient to peel off and discard the foil lid. Then simply compost or dispose ​of the grounds before placing your K-Cup® pod into recycling. EASY-PEEL lids are the next major step in making K-Cup® pod recycling prep easier for you.

Since the end of 2020, 100% of Keurig® K-Cup® pods are recyclable. We've spent years completing intensive testing, development, and supply chain transition to produce a product that is not only recyclable, but can actually be recycled. We chose polypropylene (#5 plastic) because it is widely accepted for curbside recycling in a majority of communities across North America and there is growing demand for it as a recycled material. Imagine the possibilities of what your empty recyclable K-Cup® pod could become next!
NOT JUST A LABEL, A COMMITMENT
To demonstrate that our recyclable K-Cup® pods could be recovered using existing equipment in many recycling facilities across North America, Keurig® pioneered a first of its kind, award-winning testing methodology using Radio-Frequency Identification (RFID) technology. We tested tens of thousands of pods and found that 90% of recyclable K-Cup® pods had the potential to be recovered, creating more recycled polypropylene that can eventually be recycled into new products.

Tested at 12 facilities across North America

90% of pods had the potential to be recovered, similar to PET soda bottles and yogurt containers

#5 K-Cup® pods are additive to the existing polypropelyne stream; not a new material
Learn more about plastic recycling and our
investments in recycling infrastructure
THE ROAD TO RECYCLABILITY

2011
Keurig® begins
Grounds to Grow On®,
a program to help
businesses &
workplaces recycle
unused K-Cup® pods

2014
We commit to all
new K-Cup® pods
being recyclable* by
the end of 2020

2015
We begin
testing recyclable
K-Cup® pods with
recyclers across
North America

2016
The first
recyclable K-Cup®
pods are ready
to brew

2017
The first recyclable
K-Cup® pod is
launched in Canada

2018
As of 2018, 100%
of K-Cup® pods
produced in Canada
are recyclable

2020
100% of K-Cup®
pods in the U.S. are
recyclable!
2021
EASY-PEEL Lid
technology
introduced to make
recycling prep
easier
*Check locally. Not recyclable in all communities.
As our recycling journey continues, the EASY-PEEL lids make recycling prep easier.
Once you've finished brewing your favorite K-Cup® pod, just peel and discard the lid using the tab, then compost or discard the grounds and recycle the empty cup.
EASY-PEEL lids will be introduced on a rolling basis.
*Check locally, not recycled in all communities.
HOW2RECYCLE® LABEL GIVES
CONSUMERS SIMPLE INSTRUCTIONS FOR RECYCLING
We know how confusing complex recycling systems can be! How2Recycle® is an industry-wide labeling system that evaluates a product's packaging and assigns the proper recycling instructions for that product. Look for the How2Recycle® label on our recyclable K-Cup® pod boxes: this label, coupled with our visual 3-step process above, aims to communicate "recycle right" behavior.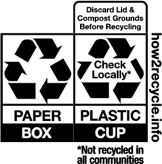 The majority of communities in the United States accept #5 polypropylene containers in their recycling facilities. We encourage consumers to check locally to ensure their community accepts our recyclable K-Cup® pods before putting them in their recycling bin.
Investing in Infrastructure
In addition to converting 100% of K-Cup pods to the recyclable format, KDP has intensified its efforts to ensure that recycling facilities across the U.S. have the capability to recycle polypropylene. In 2020, with a $10 million commitment, KDP became a Founding Member and the largest funder of The Recycling Partnership's Polypropylene Recycling Coalition ("The Coalition"), a collaborative of 18 organizations, including fellow steering committee members Braskem, the Walmart Foundation and the NextGen Consortium, dedicated to increasing the quantity and quality of polypropylene recycling in the U.S.
Questions about recyclable K-Cup® Pods?
Read our FAQs or reach out to
our Consumer Care team at (866)-901-BREW (2739)