Café Escapes®
Café Caramel Specialty

Make those special "me moments" even more delectable with an enticingly light cup of Café Caramel. Each blissfully buttery sip is a reminder-life is better with a caramel on top.

Notes: This product contains milk. Caffeine content is estimated at less than 10 mg per serving (versus 100-150 mg in Arabica coffee). Contains a combination of natural and artificial sweeteners.
*Customers who have a Keurig® 2.0 brewer will need to select the HOT COCOA/OTHER button when brewing this product.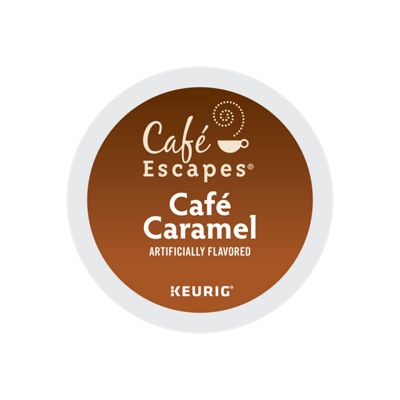 PRICE
Free shipping on orders $49 or more!

Auto-Delivery
has advantages.
---
Get 15% off list price on pods in every recurring Auto-Delivery order.
Every day, you should do something nice for yourself. Take a break. Relax. Recharge. Give in to a few delicious moments of "me time." Café Escapes salutes this notion with a delectable collection of indulgent treats. They're rich, satisfying, and decadent - but not so much that you can't enjoy one every day. Whether you need an afternoon pick-me-up, or something to go with that hard-to-put-down book, Café Escapes® is the perfect companion. Prepare a cup just for you and enjoy a moment of uplifting downtime.
Things you'll love
With 500+ varieties to choose from here are some of our best sellers.
3.7
Dark Chocolate Hot Cocoa

K-CUP® SPECIALTY. Deeply decadent. Decidedly dark. Definitely delicious.
Full Details
2.9
Milk Chocolate Hot Cocoa

K-CUP® SPECIALTY. Milk Chocolate creaminess, the way hot cocoa was meant to be.
Full Details